Welcome to Guangxi Luhai Railway Investment Group Co., Ltd
Mechanical and electrical installation project manager
1. Possess the professional technology of mechanical and electrical equipment installation, intermediate title or above, registered mechanical and electrical engineering construction engineer, more than five years of project management experience; 2. Sign a formal contract with the company for more than 5 years of housing subsidies of 1 million.
Guangxi's first self-invested high-speed railway begins to build beams and will connect to Vietnam Railway
---
The picture shows, the beam site photo by Jin Wei
China News Service, Wuhan, September 27 (Jin Wei Xu Jinbo) Here, China Railway 11th Bureau Group Co., Ltd. (referred to as "China Railway 11th Bureau") announced on the 27th that the bureau undertook the construction of Guangxi Nan (Ning) Chong (left) The No. 1 High-speed Railway Qunong Bridge began to erect beams on the same day, marking that the first high-speed railway line independently invested and constructed by Guangxi Zhuang Autonomous Region has entered the beam erection stage.
According to reports, the Nanning-Chongqing high-speed railway under construction has a total length of 119.75 kilometers and a design speed of 250 kilometers per hour. The line starts from the Nanning hub in the east, passes through Nanning Wuxu International Airport, and leads to Chongzuo South Station via Fusui and Quli, with a total investment of 22.29 billion yuan. It is expected to be completed and opened to traffic in 2021. It is the first high-speed rail line independently invested by Guangxi Zhuang Autonomous Region. The line will also be extended to Pingxiang in the long-term, and will be connected with the Vietnam Railway in due course, becoming an important channel for interconnection between Guangxi and neighboring countries.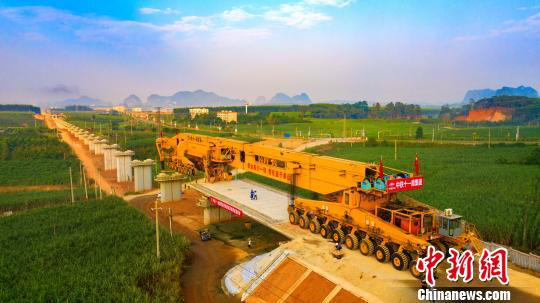 The picture shows, the beam site photo by Jin Wei
The China Railway 11th Bureau undertook the construction of the 44.29-kilometer Nanchong high-speed railway. Xiong Shangyang, the project manager, said that the line is located in a typical karst landform area, with complex topographical conditions, karst, rockfall and other unfavorable geological conditions, making the construction difficult. To this end, the project department continuously improved the construction plan, optimized the construction process, and independently developed an integrated intelligent variable frequency grouting trolley, which greatly improved the efficiency and quality of the construction and ensured the successful erection of the first box girder across the line. A self-developed mobile bridge erecting machine was put into beam erection construction that day, which can realize the integration of beam erection operations.
The person in charge of Guangxi Nan-Chong Railway Co., Ltd. said that the Nan-Chong high-speed railway is an important transportation facility for the construction of the "One Belt, One Road" and China-Singapore interconnection southbound channel. After completion, the travel time from Nanning to Chongzuo will be shortened from the current 2 hours to half. It is of great significance to the economic and social development of Guangxi and even the entire southwest region to truly realize the integration of Nanning and Chongzuo into one city. (Finish)
Related News